After making his debut as a lyricist in
Salman Khan
starrer 'Garv' in 2004,
Shabbir Ahmed
went on to work with the 'Dabangg' star in films like, 'Partner', 'God Tussi Great Ho', 'Wanted', 'Race 3' and others. He has written lyrics of the song, 'Naiyo Lagda' from 'Kisi Ka Bhai Kisi Ki Jaan'. In an exclusive interview with ETimes, the lyricist opened up on the reactions he is getting for the romantic song and his experience of working with Yash in 'KGF: Chapter 2'. He talks about the people he looks up to in the industry and more. Excerpts…
What kind of reactions have you been getting for Naiyo Lagda?

I am getting a fabulous response for 'Naiyo Lagda'. I am happy that people are loving the song. It doesn't matter if the song is modern, new or old, it should just have its soul and melody. Himesh Reshammiya has composed a very good melody for the song. Everywhere I go, people are approaching me to tell me how much they liked the song.
'Kisi Ka Bhai Kisi Ki Jaan' is one of the most anticipated movies of the year. Did you feel any pressure while writing the song?
I think the pressure is always there. Salman Khan is someone with whom you want to work with again and again. I felt the pressure because it is a big film and it is releasing on Eid. I had to make the song commercial and likeable. I had to keep in mind the combination of Salman-Himesh-Shabbir. When you work with different composers, you have different challenges and pressures.
Salman has always trusted me a lot and has always encouraged me. I have tried to keep up to that trust that he has in me. After 'Pathaan', Salman's aura has reached another level. There are a lot of expectations.
Did you get a brief as to how the song should be?
I was told this was going to be the first time Salman Khan and Pooja Hedge will be seen romancing on screen. I was briefed that the song has to have simple and meaningful lyrics so that it is catchy. I am glad that people have liked the song.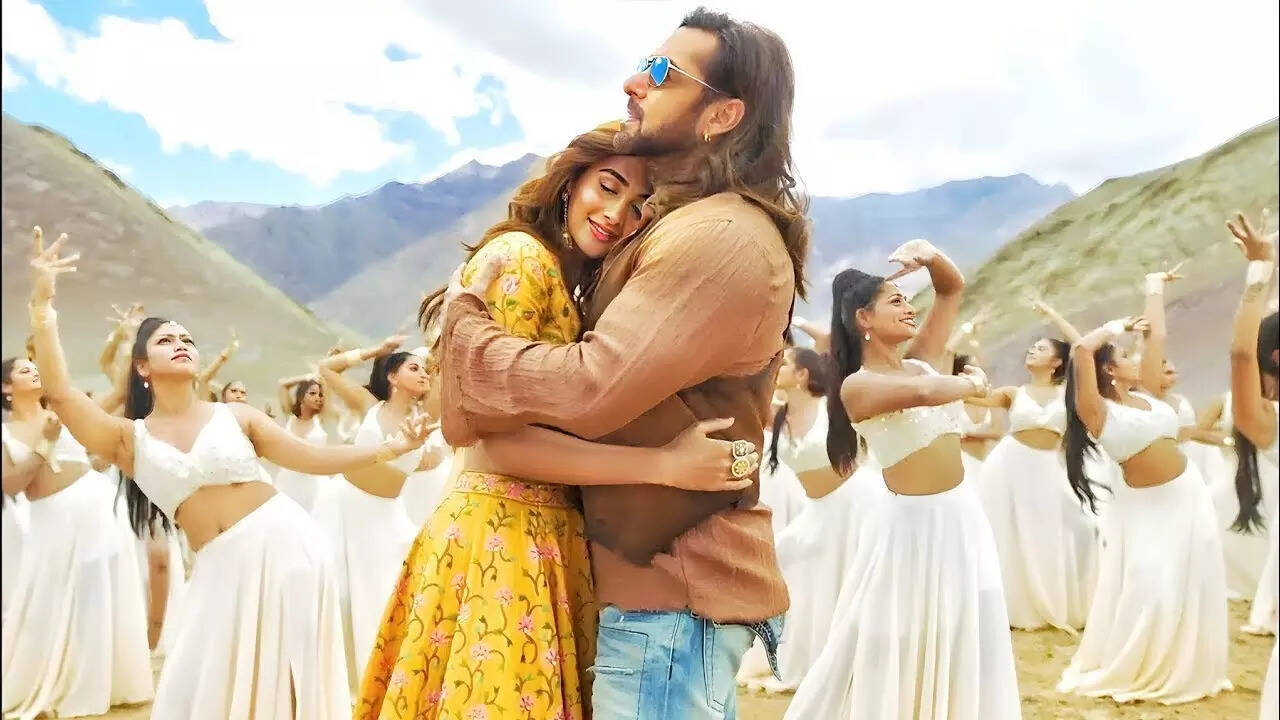 You have worked with Salman Khan earlier too. How has your experience been so far? How is the actor as an individual?
Salman Khan is a name that rings a bell in my heart every time I hear it. I love to work with him. He is a kind and helpful person by nature. He is someone who believes in giving opportunities to people. Whatever I am today is because of him. After the almighty, it is Salman Khan for me. He is my Godfather. He has done so much for me that I am forever indebted to him. I absolutely love him!
Apart from Bollywood, you have been creating waves in hit pan-India films like KGF 2 and Vikrant Rona. How has been working on those projects?
Yes, I have worked in films like, 'KGF 2', 'Vikrant Rona' and even 'Kabzaa'. I am also working with composers like Devi Sri Prasad, Vidyasagar and others. I have had a great experience working down South. People in the South worship work. The people there never forget about their culture and take it forward with them. My career in both Bollywood and South is flourishing and I am extremely grateful to God for everything.
Was Yash co-operative as a colleague? Did he give suggestions to you for the lyrics?
I loved working with Yash. Just like how Salman bhai sits during the recording and gets involved in the making, Yash also is the same when it comes to work. After working for the entire night and the next day till the night, I went home from the studio to take some rest. However, Yash did not give up. He stayed there even after I was gone and worked on the songs, music and scenes. I absolutely love to work with such dedicated people.
We have some very talented lyricists – be it Gulzar, Amitabh Bhattacharya or Mehboob. Who has been your inspiration?
All of these people are very talented and I respect them a lot. However, the people I look up to are Raja Mehdi Ali Khan sahab and Anand Bakshi. I never had any Guru in my life and I consider Bakshi sahab as my teacher. I listen to his songs a lot.
From the recent ones, which song impressed you with its lyrics?
This is a very difficult question to answer. I love all kinds of songs. I really cannot pick one as my favourite. Everyone is working very hard.
From all the actors you have worked with, who has been an absolute delight?
I have loved working with all the actors. However, Salman Khan, Shah Rukh Khan and Yash sir will always be my favourites.