Mrs Chatterjee Vs Norway, starring Rani Mukerji in the lead had its star-studded premiere recently. The movie, based on the real life of Sagarika Bhattacharya, is the story of the resilience and unending grit of a mother, whose children are snatched away from her by the Norwegian Child Welfare Services.
Vicky Kaushal and wife Katrina Kaif who saw the movie, could not help but shower praises on the same and took to their respective IG handles to applaud the project. Katrina Kaif, sharing a poster from the movie wrote on her IG story, "What an incredible, gripping story, just captivates you, a rollercoaster of emotions -.Rani Mukerji no words to describe your brilliance. Spellbound. Huge congratulations to the entire team @ashimachibber @nikkhiladvani @zeestudiosofficial @emmayentertainment."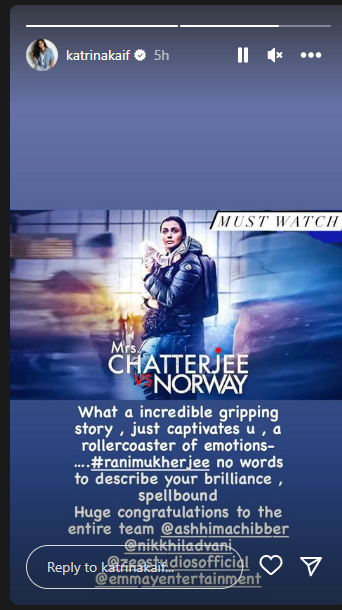 On the other hand, husband Vicky Kaushal too, echoed her sentiment and wrote, "Makes your heart go out to families which have gone through the ordeal for real! Brilliantly told and performed. Hats off to Rani Mukerji for bearing her soul out… Also @jimsarbhforreal @anirbanbhattacharyaofficial and the entire ensemble cast for their nuanced performances. @ashimachibber you are going to make people cry and love you for it. Congrats @nikkhiladvani @zeestudiosofficial @emmayentertainment."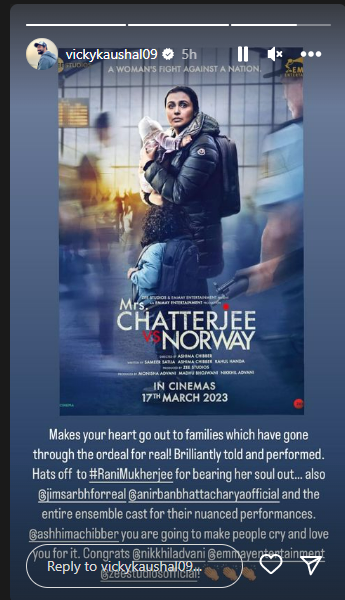 Earlier, Sagarika Bhattacharya had quoted, "I want to thank Rani Mukerji for channeling the grief and struggles that I went through to win back my children. She is a mother herself and I thank her for bringing a mother's painful journey on screen with so much dignity."
The movie co-stars Anirban Bhattacharya, Jim Sarbh, and Neena Gupta and will hit screens tomorrow, March 17.