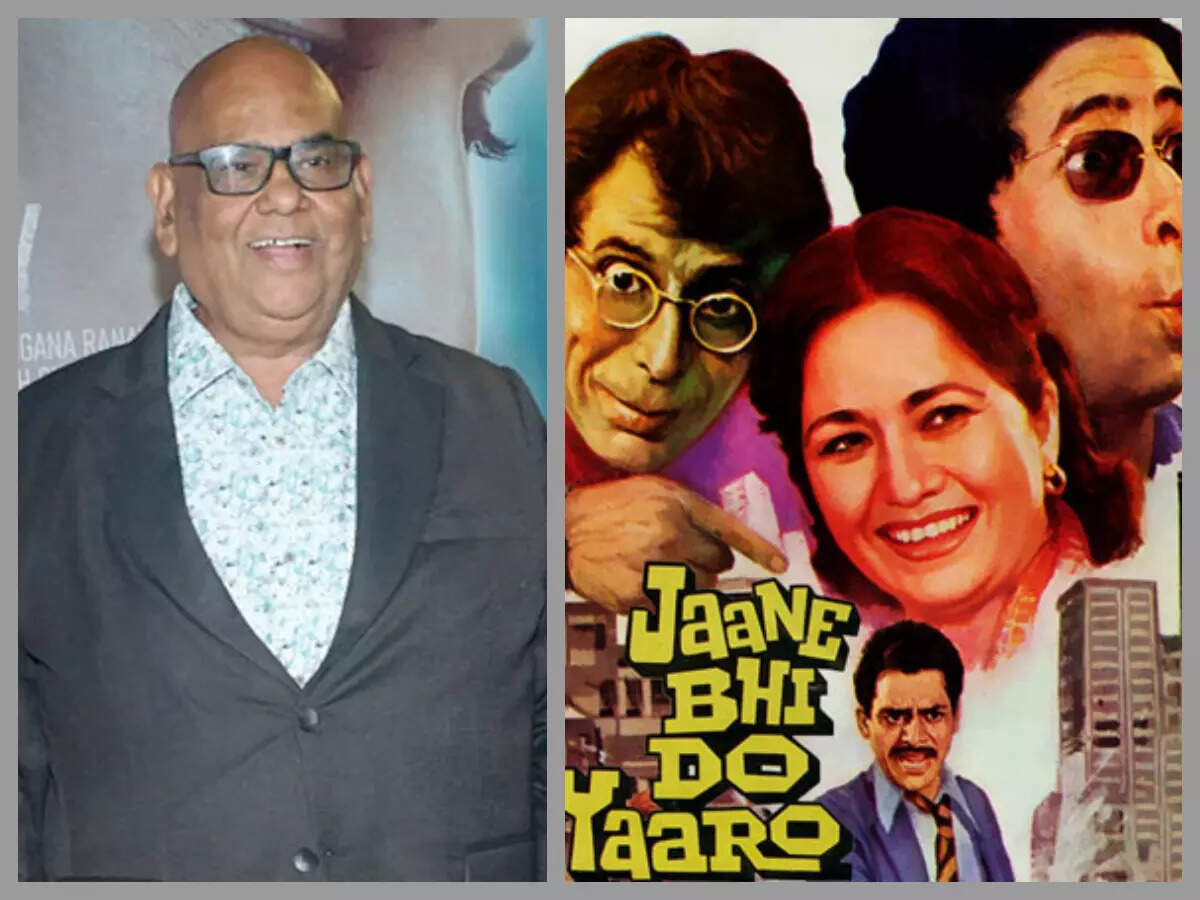 Kundan Shah's Jaane Bhi Do Yaaro was very close to Satish Kaushik's heart. He not only co-wrote the film (with Ranjeet Kapoor) but also played the part of a corrupt contractor (Pankaj Kapoor)'s assistant.
Jaane Bhi Do Yaaro (JBDY) was released in 1983. Recalling the experience of the making of the film Satish had said in a past interaction, "None of us thought it would become such a cult classic with time. Apart from acting in the film I wrote the dialogues for the film along with Ranjeet Kapoor. It was made on a budget of 7.5 lakhs."
Then came Satish's first startling revelation: "It was supposed to be Anupam Kher's first film but his role got chopped off in the editing. For the first time an NFDC film was bought by a regular distributor, Romu Sippy."
Satish was initially not part of the cast. "I was not part of the actors repertoire of JBDY but while writing the dialogues everyday I used to wonder for which role I should forward my name to Kundan through Ranjeet. Naseeruddin Shah, Ravi Baswani were already finalised. But to my luck when we were improvising the mad telephone-receiver exchanging scene I performed the role of Tarneja's assistant Ashok. That turned out to be a very funny scene while I performed as an actor for Ashok's role, my casting was not finalised."
To Satish's luck Kundan decided to let Satish do Ashok's part. "Kundan said, 'Yaar, teri kya timing thi iss scene mein. Par aisi timing kaun actor kar sakta hai?'. Ranjeet immediately jumped in to help. After some reluctance Kundan agreed. And that is how I got a role in the film. So from Rs 3000 for dialogues my total remuneration went up to Rs 5000 and I got 2000 for acting. We used to get Rs 10 per day for conveyance. But the kind of fun we had while making the film could not be judged in terms of remuneration."
JBDY played a major role in steering Satish's career in films. He was rightly proud to be associated with this film. "I feel very proud to be associated with this cult classic of Hindi cinema. I remember I came back to Delhi after finishing Shekhar Kapur's debut film Masoom from Nainital and before coming to Bombay I went to visit Ranjeet Kapoor who was a top notch theatre director. I met Kundan Shah at his house who had come to sign Ranjeet as a dialogue writer of JBDY. I had known Kundan because I had done my first film Chakra in which he was the chief AD. All three of us were chatting and suddenly out of nowhere Ranjeet told Kundan, 'Since you're making a mad comedy I will like to have Satish as my co-writer.' I was shocked. Ranjeet convinced Kundan that I have a great comic sense and timing and will be a great help in writing a film. And that's how my career as a writer started though I had never written before."
Satish and Ranjit wrote the entire film in Kundan's house in Sion and and also slept there to be woken up sometimes by his little cute daughter who would say, 'Uncle utho… Likho'.
The 'Mr India' actor had recalled, "Everyday we would take up a scene from the screenplay and start performing and improvising it in the room and record everything and bring it to paper as per Kundan's liking. Ranjeet and I used our theatre experience in moulding the dialogue script of JBDY."
As for the wild, wacky and iconic Mahabharat scene in Jaane Bhi Do Yaaro, Satish had revealed, "It took us ten days to write the Mahabharat scene because in the screenplay it was just mentioned that they all get into a theatre in which some drama is being performed and chaos happens. But which drama? We all got stuck because whatever play we thought of was not bringing humour into the situation. We took a break for ten days as we could not construct the scene. But one day while I was walking in the market in Santa Cruz I saw cheap colourful comics of Laila Majnu, Shirin-farhad, Mughal-e-Azam etc and from there the idea struck us that in the climax of Jaane Bhi Do Yaaro there should be a mix up of characters and that is how the extraordinary and hilarious climax came on paper."
Then came another startling revelation from Satish: "JBDY had a romantic track betwee me, Ravi and Neena Gupta but it got chopped off because of length problems."
The JBDY premier was no less a fun. "We had no passes and Kundan was taking money from us for tickets for the premier. This must have been the first and only premier where actors had to pay from their pocket to watch their own film. After the premiere, there was no party and after the film I walked down to the station to get back home, had dinner at a dhaba. We could not celebrate at that time of release but till today celebrations are going on for JBDY. I'm proud of being part of it."
Working with Kundan was great fun for Satish. "Kundan had a great sense of humour. It's very difficult to make him happy as a writer and actor too. Even if he would be happy with something he would never show it. He had tremendous unsteady energy, and at the time of making of the film he injected that energy into his actors. He would push everyone to give their best to the film. And a remarkable repertoire of the great actors Naseer, Ravi Baswani, Bhakti Barve, Satish Shah, Pankaj Kapur, Om Puri and myself were giving their best. Filmmaker Vinod Chopra played a role in the climax Mahabharata scene. I am sure Kundan is looking down from the heavens and laughing at the recollection."
And now Satish and Kundan together must be laughing at the memories.